How often do you have adoption events?
We have larger adoption events at least 2 times per year, usually in the spring and fall but we will have smaller events throughout the year.
What are the hours for your larger adoption events?
Our large adoption events always start with site set up – usually on the Wednesday night from about 5:30PM to 9:00PM before the event weekend but sometimes on a Tuesday. On Thursday night there is mandatory volunteer registration from 6:30PM to 8:00PM for those volunteers who want to work the weekend of the event. On Friday before the event we welcome our rescues with their dogs traveling from out of state. They come in Friday between 9am and 3pm and we ALWAYS needs lots of hands to help comfort the dogs coming off of transport. The event weekend has different start times depending on your volunteer role. We are on site by 8:00am on Saturday until 6:00pm and you can come to help any time during the day. On Sunday we're on site for the same hours although we stay later to clean up and move out!
What do I need to adopt a dog?
If you currently have or recently have had a dog first please call your veterinarian and give them permission to speak with our reference team. If you rent we'll need a letter of permission from your landlord which states you may have a dog. You must be over 18 years old and also have a valid drivers license.
How long does it take to adopt a dog?
Usually a couple of weeks between the time you submit an application and the time you bring the dog home unless you're attending one of our larger adoption events. Then teams are on site and you may take your dog home on the same day if you meet all event guidelines (they will be emailed to you).
I submitted my application but I haven't heard from anyone.
Once you submit your application our reference team will call and check your references – and, yes, we really DO call. Next your application goes to our adoption team counselors and they should give you a call. If you don't hear from someone within a few days please email info@godogdays.org.
Will I get the dog I want?
Usually but not always. We look for the best home for a dog and sometimes yours may not be the best fit for the dog's temperament or daily needs.
What is the schedule for the adoption events weekend?
During large events we are open from 11:00am to 4:00pm on Saturday and Sunday. For smaller events check our website home page and to meet a dog in between events email info@godogdays.org.
Can I help by fostering a dog?
Absolutely! We are always looking for fosters to help us with dogs – please CLICK HERE to find out more about fostering – our foster application is also on that page – thank you!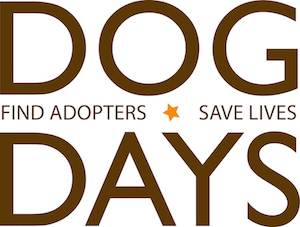 Looking for Information? Volunteering? Adopting?
We send out information before every event so please sign up for our email list and we'll let you know what's happening!
We love seeing new faces helping to care for the dogs at our events – please sign up here:
Looking to adopt a rescued dog? We can help you – information about adopting is here: